Ventana Research recently announced its 2023 research agenda for the Office of Revenue, continuing the guidance we've offered for nearly two decades to help organizations realize their optimal value from applying technology to improve business outcomes. Chief Sales and Revenue Officers face an imperative to manage their sales and revenue organizations, but they don't always have the guidance they need to embrace technology to achieve the best possible outcomes. As we look forward to 2023, we are focusing on the entire selling and buying journey, and in addition focusing on those activities that ensure renewal and expansion as well as newer digital engagement and selling channels. We are looking at applications that simplify processes and tasks across the customer experience, from beginning to end.
To help, we craft our research agenda using our firm's expertise on business requirements and our knowledge of technology vendors and products. Through our continuous market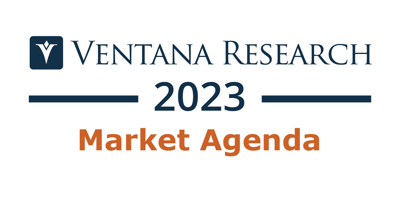 research, we offer insights and best practices to help both the lines of business and IT as well as across industry verticals that will help any organization reach its maximum potential.
In 2023, we continue our focus on the broader concept of revenue management to help organizations address their strategy, planning and operations. With the rise of digital commerce and subscription business models, organizations' primary focus on new business is shifting. With the higher cost of new customer acquisition and the resulting importance of customer retention and expansion, the entire customer experience is of vital importance in building and sustaining a business. These processes that support the customer experience require specific technology — a 360-degree view of customers, digital buying technology, pricing optimization for managing B2C and B2B models, and configure-price-quote (CPQ) applications to enable adjusting contract terms based on the configuration of products as is most often found in B2B-focused organizations. We also will focus on the mixed-revenue model that includes the subscription management experience as, for many industries, this is a growing part of the overall customer journey.
Improving sales outcomes and revenue are key to sales effectiveness, and emerging sales applications and tools provide the path to that goal. New applications and tools designed for salespeople and processes are designed to help not just with managing sales organizations but also to help salespeople effectively sell. Reflecting this, our sales and revenue practice addresses six focus areas: digital commerce; revenue management; sales engagement; sales and revenue performance management; subscription management; and partner management.
Digital Commerce
Digital commerce enables organizations to engage with any type of customer across digital channels — the web, mobile apps, text, voice-activated "agents," video and social channels — to deliver an optimal customer and product experience. In the world of digital commerce, the customer and product experience are top differentiators. Conversational computing as well as hyper-personalization are transforming customer engagement, and many organizations will need to renovate their digital platform to optimize customer and product experiences or risk lagging behind competitors. Moving beyond consumer purchase, we will also look at how B2B selling and buying are increasingly using B2C digital approaches to mirror this experience. We will conduct new Benchmark and Value Index research in 2023 to identify best practices and assess and rate technology vendors' potential to help meet evolving commerce needs.
Revenue Management
With the rise of digital commerce and the subscription and usage business models, organizations are increasingly recognizing that the traditional primacy of a new customer-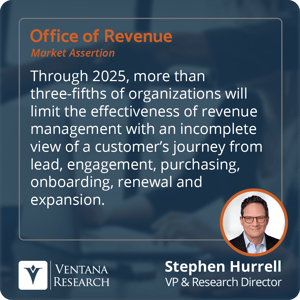 focus needs to change. As new customer acquisition costs are high, both retention and existing customer expansion are of equal importance. And with the exponential growth of data — not just generated internally through CRM, order and back-office systems, but with the addition of third-party location and firmographic — technology can be used to help identify, navigate and execute new paths to revenue. In addition, sales, marketing and customer success will need to plan and operate together to ensure all departments are aligned to a company's revenue goals. Despite this, through 2025, we believe that more than three-fifths of organizations will limit the effectiveness of revenue management with an incomplete view of a customer's journey from lead, engagement, purchasing to onboarding, renewal and expansion. We will also focus on the importance of evaluating CRM implementations and whether they are keeping up with business process changes, as so much of vendor feature development is dependent on clean and timely data to drive insights and artificial intelligence (AI) recommendations. We will conduct new Benchmark and Value Index research in 2023 to identify best practices and assess and rate technology vendors' potential to help meet emerging revenue management needs across all aspects of the buyer and customer journey.
Sales Engagement
Sales engagement facilitates intelligent engagement and execution by sales professionals to achieve optimal revenue outcomes. With a recognized decline in quota attainment, a shift in balance to buyers through internet-based research capabilities and changes wrought by the pandemic, vendors have been focusing more on how to help sell and not just manage sales. After a slow start, systems that use AI and knowledge management technology are starting to provide prioritized insights that increase sales effectiveness. We do not believe sales enablement should exist as a separate category as much of the need and recent technical innovations link enablement to engagement; and, like engagement, it is increasingly utilizing much of the same data as sales engagement applications to drive effectiveness within selling teams. Organizations should invest in sales enablement systems designed to support salespersons and not just those that manage sales organizations. We will continue to conduct Dynamic Insights research in 2023 on the challenges and potential for sales engagement.
Sales and Revenue Performance Management
Revenue performance management (RPM) is the natural successor to sales performance management (SPM) and enables revenue and sales leaders to align strategy and planning to optimally engage all types of accounts and territories, whether supported by direct, partner or self-service digital commerce channels, using quotas and compensation to achieve the best possible outcomes. In addition, we will reflect the changing focus from solely new business to include those involved in customer retention and expansion. Managing revenue performance requires that organizations effectively plan revenue processes and resources; it's critical that planning be collaborative to optimize engagement and boost revenue performance. Mobile devices can provide instantaneous updates and give sales professionals and managers a straightforward view of performance to enable more effective management. We recommend that organizations adopt RPM and evaluate the Value Index for guidance on vendors and review the results of the new RPM Value Index that will be released in 2023.
Subscription Management
Subscription management involves processes and applications designed to manage the subscriber experience from first digital touch to subscriber engagement and billing. To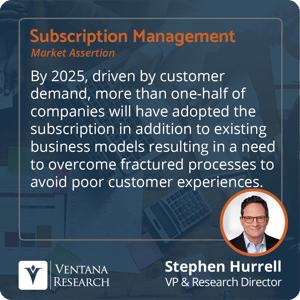 engage subscribers more effectively, organizations must prioritize technology that enhances the subscriber experience by automating subscriber operations and financial processes. In addition, many B2B companies are adding subscription business models as part of their overall revenue mix to remain competitive as well as leverage new revenue streams to accompany existing product and service lines. In fact, we assert that by 2025, driven by customer demand, more than one-half of companies will have adopted the subscription in addition to existing business models, resulting in a need to overcome fractured process to avoid poor customer experiences. For B2B companies, a usage-based business model will make more sense, imposing new requirements on vendors to enable pricing models that support individually negotiated contracts. We will be publishing the results of our comprehensive Value Index research in 2023 that reviews best practices and assesses and rates technology vendors' potential to help meet emerging subscription needs.
Partner Management
Partner management involves processes and applications designed to support businesses that bundle or resell other providers' services and products. Although not new, this a growing model where an ecosystem of vendors supplies customers with a mix of their own products and services with those from other third parties. This necessitates new onboarding processes, revenue allocation and service level agreement (SLA) monitoring and reporting. We will conduct new Benchmark Research in 2023 to identify best practices and assess and rate technology vendors' potential to help meet emerging partner management needs.
Every sales organization, no matter how many employees it has or the size of its revenue, has an opportunity to significantly improve the selling experience. Enhancements to underlying processes and technology can have an immediate impact on top- and bottom-line results. Determining your path forward in 2023 requires an effective strategy and knowledge of the technology you need to improve or add to your existing portfolio of investments.
Subscribe to our community to keep up to date on our research efforts in 2023 and navigate to our revenue expertise and topic areas to see the detailed agenda and continuously updated 90-day calendar, as well as more research facts and best practices.
Regards,
Stephen Hurrell