Those of us who have worked in or alongside sales teams have observed that many sales fundamentals have changed over the years. Yet, in many ways, they have not. One essential that has not changed is sales enablement. How do you onboard salespeople and quickly bring them up to speed? Or, how do you introduce new products and services so the sales team is conversant and knowledgeable about them? In years past, this would have happened at the head office or a regional office, with videos and internally produced documentation and product fact sheets. But thanks to the internet, this has all changed. Digitization has improved – and will continue to enhance – sales enablement.
For onboarding a new salesperson, the major aspects of sales enablement are customer, market and product and service knowledge; sales methodology; playbooks; and motions. The sales team also needs to understand compensation and administrative tasks such as sales process activity, status logging and periodic forecasting. Go-to-market motions for new products and services will account for much of the sales enablement effort. And whether supported by a dedicated team or as part of sales and revenue operations, technology plays a major supporting role.
Technological enhancements enabled by the internet and cloud vendors have improved the options for sales enablement in several complementary ways. A major benefit has come from the ability to utilize data from sales stage progressions to understand what a successful sale looks like versus a close loss. Coupled with artificial intelligence and machine learning, conversations between sellers and buyers are analyzed to identify what successful sellers are saying and how they react to and handle objections in the buying process. Combined, managers and enablement teams are much better prepared to devise winning playbooks and sale motions as well as coaching for new and existing salespeople to ramp-up new hires faster and upskill existing team members.
Coaching should be ongoing for new hires and current team members, using combinations of conversation analysis as well as guidance for next steps based on data-driven sales plays that capture successful sales activities proven to increase the likelihood of a winning sale. This will also establish consistent approaches to selling as execution at scale, but often has to counter entrenched ideas and gut-based habits. Data-driven sales enablement counters bad habits by demonstrating how good habits result in better sales outcomes and a more even distribution of quota attainment.
As marketing teams continue to embrace advanced segmentation techniques with appropriately tailored outbound messaging, sales enablement needs to ensure that materials, target personas and demonstrations are aligned or risk a mismatch between sales and marketing. Product fact sheets, use cases, stories, benefits and return-on-investment calculators need to be catalogued and tagged by account segment type so an inbound lead can be married to a predefined playbook. This enables inbound sales development representatives or field salespeople to quickly respond with relevant information. And as much a part of engagement as enablement, AI-based video personalization of outbound contacts or responses is enabling a more emotional engagement at scale. Absent this customization, generic or irrelevant product and service responses will negatively impact the sales effort.
When it comes to demonstrations and technical responses, less is often more. Good sales enablement creates an understanding that, although key subject matter expertise is often a critical component of successful sales engagement, good enablement practices ensure that this valuable resource is optimally used, avoiding premature engagement and lost opportunities from inappropriate deployment.
One aspect of enablement that is often overlooked is the need to ensure that incentives – whether monetary or otherwise – are used in ways that achieve the desired objectives. Salespeople are conscious that, in most cases, their efforts will be rewarded through commissions and bonuses. Regardless, ad hoc calculations will occur based on the salesperson's best effort to understand what are often complex situations. It makes sense that these formulas are available to the sales team to ensure they understand the impact prospective sales will have on their projected income when using the right rules and not individual interpretations. In a separate perspective, I discuss compensation and other aspects of setting up sales teams for success.
Sales enablement is an important part of ensuring sales team success. But many recent innovations are dependent on good quality and timely data. Enabling low-effort capture of activity and other data, whether through best practice, additional tools, or auto-capture of data such as meetings, emails and calls should be a part of the sales enablement process.
Although technology has made major advancements to help sales teams, for many organizations, their sales supporting applications, such as customer relationship management systems, have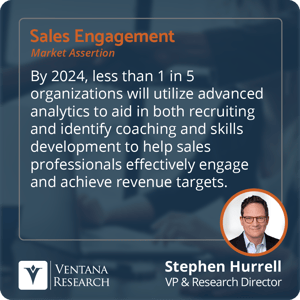 not kept pace with changes in the business. This technical debt is often a major impediment to the capture of data needed to improve sales effectiveness. By 2024, less than 1 in 5 organizations will use advanced analytics to aid in recruiting and identifying coaching and skills development to help sales professionals effectively engage and achieve revenue targets.
Addressing the transformation of source systems will create a virtuous circle as better data leads to more effective automation and better targeting of the work of sales enablement to put sales teams on the right footing to succeed.
Regards,
Stephen Hurrell