Much has been written in recent years on the emergence of subscription management as a new revenue model that both vendors and buyers are embracing as the future. The benefits speak to the value of a predictable revenue stream for the vendor, but more importantly, the advantages to the customer who needs a lower initial outlay, predetermined expense over the lifetime of usage and the ability to cancel or suspend on demand.
Cloud-based software providers were some of the early business-to-business adopters of this revenue model. In the business-to-consumer arena, aside from newspapers and magazines, streaming entertainment and mobile phone plans were also early pioneers.
But the subscription revenue model has now gone mainstream. It's no longer new. In fact, the biggest growth is now in what I call the mixed-revenue model. Most of the early mixed-revenue adopters were "digitally native" organizations. Primarily subscription based, these organizations represented a small proportion of the overall economy. But according to 2020 statistics from the North American Industry Classification System, there are approximately 215,000 U.S. companies with revenue greater than $10 million, and digitally native organizations represent at most 5% of these. This means that, for most organizations, the subscription revenue model will be additional to existing, one-time sales models.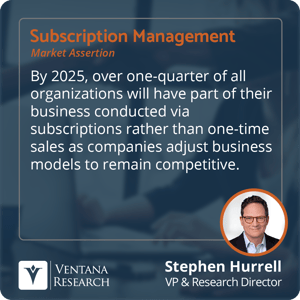 For many organizations, subscription revenue models — whether flat fee or variable, based on usage or consumption — form part of a broader means to conduct business. For example, car companies now offer additional services such as roadside assistance and accident monitoring for vehicle owners. And some are going further and testing products such as software-enabled heated seats as a subscription service to both reflect consumers' desire to only pay for what they use (most wouldn't need this service during the summer months) as well as offering the vendor the ability to monetize additional revenue streams. Regardless of whether you think this particular example is good or bad, it is illustrative of wide change as to how companies are thinking of both reacting to buyer needs as well as creating additional revenue streams. We believe that by 2025, over one-quarter of all organizations will conduct some business via subscriptions, rather than strictly one-time sales, as companies adjust business models to remain competitive.
Adoption of a mixed-revenue approach is typically driven by one of three events: extension to an existing set of products or services such as the automobile example, the introduction of entirely new products and services or through merger and acquisition activity where an acquired business utilizes these additional revenue models. The subscription models themselves are not static, as we are seeing growth in revenue models that are based on usage or consumption — so-called metered models. This model represents a move towards truly accommodating consumers' wish to only pay for what they use. A good example is cloud storage, in which users are charged based on how much storage they use, which of course allows users to choose between convenience and cost.
For the non-digitally native organization, successful adoption of the mixed-revenue model has additional implications to culture and approach, as the paramount driver of success is ultimately the customer experience. I recently explored the CX implications of subscription management. For example, customers should be masked from any internal organizational structure that does not align with the customer expectation. This means there should not be multiple bills from different lines of business. Or the customer shouldn't have to work out which part of the business to call for support or for a question. Organizations cannot adopt the mixed-revenue model in half measures.
This change will not happen organically and will require leadership to champion the cause. Part of the shift to the mixed-revenue model entails a shift away from a singular focus on new sales, to an equal emphasis on existing customers, leading not only to their retention, but also to the opportunity for expansion and cross sell. This change will also result in more teams involved with supporting revenue, including those from marketing, customer success and account-expansion teams. This has implications for compensation, as more teams will be measured on revenue attainment metrics, rather than team and individual annually reviewed management objectives.
Organizations that are considering or have already added subscription models to overall pricing and revenue go-to-market strategies need to recognize the impact on the entire organization. Ultimately, it is less about the mechanics of the subscription and usage models — though of course this is important — but more about how the organization addresses customer needs and approaches maintaining business competitiveness. Customers are looking at minimizing upfront commitments, looking for predictability in expenses and moving towards a pay-as-you-use approach. Vendors are looking to both meet this need and find ways to add value and monetize these products and services. Utilizing the mixed-revenue model is the way forward.
Regards,
Stephen Hurrell