A subscription business model and an exceptional customer experience are equal priorities for many organizations. Much has been written about both: Subscription and usage services are considered the business model for the digital age, and a great customer experience is how organizations acquire and retain customers. I believe that by 2024, the category of subscription management software will emerge with a suite of applications and platform supporting the subscriber experience through the complete customer lifecycle to drive operational effectiveness.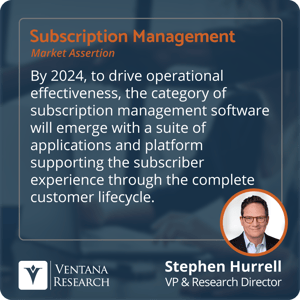 But what are some of the key technical and operational issues that need to be resolved for this to become more than a slogan on a slide deck?
When we look closely at the processes and operations of this approach, the key aspect of a positive subscription model customer experience can be summed up as "seamless." Literally, the customer should not be able to see the seams, or in this case, the integrations between the different individual processes within the initial subscription or any subsequent changes and adjustments to the initial order.
Automation is key to achieving this seamless effect, often requiring a combination of process automation, intelligent error handling, and tested integration and synchronization of data across disparate systems. For companies with a mixed business model, combining one-time sales with subscription and usage-based products and services, this seamless processing is of paramount importance to ensure that the consumer is not aware of the potentially disparate systems supporting the overall process.
While software vendors typically focus on payment processing, collections, data remediation and accurate billing, the value of these functions will be diminished in the eyes of the buyer if the overall experience is disjointed and results in multiple invoices or delays in contract and order adjustments flowing through to both revised billing as well as provisioning and deployment. In addition, manual interventions that support these internal processes — whether to affect changes or process the relevant billing and payment — will add to internal costs as well as potentially cause errors and omissions.
Seamless integration is especially important for organizations where the subscription and usage process coexist with a one-time sales business model and existing ERP infrastructure. Where customer and product data are centrally managed, it is of vital importance that this information is synchronized so that both product and customer data is up to date. Delivery and bill-to addresses can be different for larger customers, for example, and mixing the two can result in delivery errors or delays in invoice receipt. Pre-contract quotes, orders and contracts also need to be seamlessly integrated so that both the initial engagement with a new customer as well as any subsequent changes and amendments result in correct adjustments, both in terms of the number, type and price of products and services and in any automatic proration and suspension of charges if the changes do not coincide with the billing period. I discuss the particular needs of this mixed business model in my Analyst Perspective, Subscription Usage and Management Technology Needs for the Modern Economy.
Automation also supports both the internal and external audit processes — important for public organizations and those operating in a regulatory framework. The ability to validate that processes generate accurate invoice amounts is important. This is more straightforward when the product or service is priced as a predetermined flat-fee subscription, but less so when the price needs to be evaluated based on usage, as this cannot be predetermined. Rather than manually validating all amounts, automation can create an estimate of the projected usage compared to historical data, and any significant deviation that cannot be explained as typical variability can be flagged for further inspection.
When looking at a new subscription management system, close attention should be paid to ensure that integration points are automated and tested, and applications use prepackaged connectors rather than custom integrations. These requirements are especially important for organizations with mixed business models and existing financial systems. In addition, artificial intelligence or predictive analytic capabilities that validate the plausibility of periodic usage will reduce the need for extensive and labor-intensive manual checks.
Regards,
Stephen Hurrell