Many – myself included – have written about the growth in technologies designed to aid in business-to-business sales and sales management by serving sales reps, line managers, executives and operations. But one area that has been ill-served is technical presales, or sales engineering. You may ask why this should matter. Aren't presales engineers all about demonstrations? How could technology – beyond video conferencing – help?
To fully appreciate the importance of aiding presales, we need to look at the typical anatomy of a sale and what has changed to make this an issue. In B2B sales where the offering is a technical product or service, there will often be a point at which the sale reaches the "show me" stage: The buyer wants to stop talking and see the product and service. That can also mean bringing in the presales engineer to do a preliminary, first demonstration. This is an important component of the overall sale, as the presales representative's fundamental role is to demonstrate trust that the vendor understands the business or technical issue, can translate that into how the offering provides a solution and can explain the business benefit in terms of the buyer's organization.
For many sales where there is a technical component, the role of the presales engineer is to provide "proof" of sales and marketing claims. Even without a lengthy proof of concept exercise, a strong demo can satisfy much of the need for proof. The demo is even more powerful when the presentation is modeled using the prospective customer's use case, or better, their data.
But what really happens? The prospective customer is keen to see the "product," and the salesperson is keen to have the technical resource engaged early to answer technical or in-depth use-case functionality questions. So, the presales representative gets brought in earlier in the process, even though there is little real background information to go on. The resulting meeting becomes a discovery session, and is the real preparation for a more focused and comprehensive presentation that highlights the functionality and benefits relevant to the customer's use case.
Typically, there are far fewer qualified presales technical engineers than salespeople. Ratios around 1-to-3 or 4 are common. For such a significant role, why is there so little in the way of support technology, especially for maximizing the effective deployment of limited resources? One key reason is the focus on the deal and the more easily captured data correlating success against levels of activity, meetings and networking. Which is not to say that these characteristics do not play a part, but it is a current truism that, as the IT or technical buyer has been replaced by the business buyer, there is now more of a need to establish trust. The vendor needs to establish trust that, at best, any chosen product or service will add real value to an organization and enhance the buyer's perceived value. That trust is often the result of the presales technical engagement, mapping needs and wants to capabilities.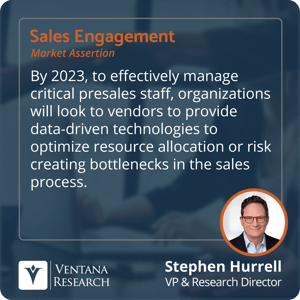 There are a few specialist technology providers that target the presales community, but by 2023, we believe that organizations will realize that to support the needs of buyers, B2B tech sales will be dependent on the efficient allocation and management of pre-sales resource and will look to vendors to provide data driven technology to optimize this process or risk creating bottlenecks in the sales process.
The most common area covered is prepacking of demos with varying degrees of granularity, meant to replicate that initial demo call, it is a way to entice use case details as well as showcase the product. As in all demonstrations, first impressions rarely make a sale, but they can put a vendor out of the running or put them at the end of the line. There is little science being deployed to understand the totality of the sales process and understand collateral, activities and demonstrations that are needed when and where to increase the probability of a successful outcome. Although focusing on prepackaging of demos for the first showing is important, a presales platform should do more and help prioritize resources by utilizing data to understand not just when activities happen in the sales cycle, but the sequence of events and level of granularity as well as what can be prepackaged and what needs to be done in person. This should be seen in the wider context of identifying what works and what does not in the same way that providers now offer data analytics to understand what messages resonate, when to reach out through which method, which leads are more productive and who needs to be involved in the sale.
In addition, as the presales process can be a good and timely resource for understanding which features are missing or not as comprehensive from a competitive perspective, any presales technology should have capabilities of integrating with existing product management requirement gathering processes so that features and suggestions can be recorded and incorporated in near real time.
For such a crucial part of the process, it is surprising how little attention is paid to supporting these important team members who are one of the few who can speak to both the business and technology. This is an area where those involved in selling need to review and assess whether they are deploying technical presales resources to maximum effect. If not, an organization should look at vendors offering applications that could be of use. The right application could have a positive impact on revenues in ways that are not part of the current conversation.
Regards,
Stephen Hurrell