There is much vendor activity and customer interest in making better use of data, to improve the sales process in the face of increased pressure to achieve organization revenue goals. As detailed in my Analyst Perspective: The Art and Science of Sales from the "Inside Out," enhanced buyer research as well as the inclusion of more people in the buying process, have made selling harder, evidenced by a general trend of declining quota attainment. There is no denying that better use of data can help in prioritizing and helping to advance the sales process more effectively. But this is not the whole story. Whereas generating interest and qualifying opportunity is a key part of the sales team's role, all this progress can be undone with a cumbersome and clunky configure, price and quoting (CPQ) and contract life cycle management (CLM) process. Automated and digitized systems that handle these elements aid greatly toward a winning/successful close process and will set the right tenor for a continuing and sustained customer relationship. And although CPQ is often thought of as part of the finance department, as contracts are with legal, both of these processes should be seen as adjuncts of the sales process, and both sales and revenue leadership and operations teams need to align with finance and legal. My colleague Robert Kugel covers the finance perspective in more detail in his Analyst Perspective: Configure, Price and Quote Software Supports Profitability Management.
A major benefit of an automated CPQ system is that guardrails and approvals ensure that compliance with company policy is endorsed as part of the process, not afterwards. One cause of buyer unease is when an offered configuration has to subsequently be walked back as the necessary approvals were not secured upfront. Approvals should ensure compliance for any offered prices as well as for any product and services combination. Pricing — including discounts and possible rebates and overrides — should be governed by rules and approvals. The level of approvals required is often linked to discount tiers and bands. An automated system both supports configuration of rules and approval chains and facilitates a timely process that avoids obvious errors in configuration or compliance. When it comes to revenue recognition, which is critical for deals involving subscription terms, professional services engagement and support services evaluating the impact at the time of creating the quote will aid in compliance and help the finance team to understand the implications of any proposed deal. The CPQ process is sometimes viewed by sales teams as a potential impediment to sales, but the reality is that compliant offers are more transparent to the buyer and engender trust. At the same time, they also ensure that the organization is engaging in "good" business, profitable to the vendor to ensure sustained engagement which is also of benefit to the buyer.
For organizations whose business models involve subscriptions, support contracts and implementation services, revenue recognition rules mean that any quote process that does not include an evaluation of the implications as to when revenue can be recognized is in danger of potentially committing a selling organization to a deal that could be less than optimum. Viewing revenue recognition as a post-hoc accounting issue, rather than part of the revenue teams process, leads to increased risk as to the profitability and general compliance of the deal.
Coupled with an automated CPQ process is an automated contract process. Directly feeding into standard contract terms, a digitized quote ensures that there is a smooth hand over once the quote has been accepted by the buying organization. Rather than Word documents or faxes, a digitized contract can be more easily routed to and from legal. A compliant contract from the outset means legal spends less time on mechanical activities such as preparing and validating terms as well as improving velocity and throughput, critical at most times but especially at period end when sales and operations teams are focused on closing the maximum of opportunities to hit targets. And after the sale is successfully concluded, the relevant terms contained in the contract should be easily integrated into a system that supports post-sales such as professional services, support and billing, and fulfillment systems. And in the same way as it does for CPQ, a more transparent and automated contract process engenders more trust in the buyer and sets the all-important customer relationship off on the right footing.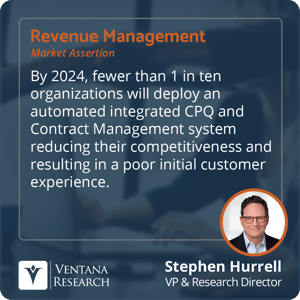 Despite the undoubted need to ensure the entire buying cycle works in a frictionless and optimum manner, I believe that by 2024, fewer than 1 in ten organizations will deploy an integrated CPQ and Contract Management system, reducing their competitiveness and resulting in a poor initial customer experience. And while focus has been rightly put on direct sales activities, selling and operational teams need to recognize that a successful sale requires the support and help of both finance and legal. Seeing them as part of a successful revenue team, aided by technology and process, ensures that there is recognized alignment to the benefit of not just the seller but also to the buying organization.
Regards,
Stephen Hurrell