The annual Ventana Research Digital Innovation Awards showcase advances in the productivity and potential of business applications, as well as technology that contributes significantly to the improved processes and performance of an organization. Our goal is to recognize technology and vendors that have introduced noteworthy digital innovations to advance business and IT.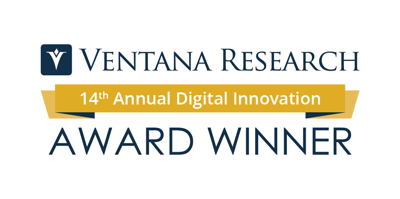 Ventana Research has awarded CommerceIQ its prestigious 2021 Digital Innovation Award for the Office of Sales. This award is given to the vendor that best exemplifies innovation and change in support of an organization's ability to maximize its people, processes, information and technology. All finalists in the areas of Office of Sales expertise were considered for this award.
Digital commerce enables organizations to engage with customers across multiple digital channels — the web, mobile apps, text, voice-activated "agents," video and social channels — and deliver an optimal customer and product experience.
Ventana Research selected CommerceIQ for its innovative use of data and machine learning to develop value-added services that enable vendors who use digital commerce providers to improve the buyer experience, supporting repeat business and higher-value transactions per customer interaction.
The act of buying via digital commerce is commonplace, and vendors need to differentiate a buyers' experience to ensure repeat customers. Organizations looking to create a competitive advantage should look to CommerceIQ's sales platform that uses a single source of data from many different departments, tying together sales, marketing and the supply chain to give a complete view of sales, forecasts, inventory and advertising spend and effectiveness. Using advanced analytics including ML, CommerceIQ can reduce out-of-stock risks, identify "grey market" sales through unauthorized third parties, and maintain timely and accurate product listings and details.
Brands are competing in a very dynamic market. Digital store fronts and ecommerce sites — coupled with peer reviews — make it more difficult than ever for your brand to stand out. CommerceIQ's sales and advertising platform enables unifying, cross-departmental data to support more focused analytics and enrich the buying experience through more effective and targeted advertising. It also ensures an optimum buying experience through accurate and timely product details, sufficient inventory and relevant and appropriate cross-sell recommendations.
These capabilities are necessary to deliver a better buyer experience in a world of undifferentiated store fronts. If you have not examined how CommerceIQ can help your organization, it is well worth your time. Congratulations, CommerceIQ for your continued innovation.
Regards,
Stephen Hurrell