The emergence of the Chief Revenue Officer (CRO) has mirrored the adoption of the subscription model and the development of multiple selling and buying channels over and above the traditional direct sales model, referred to as Revenue Management. Supporting the traditional sales team and management was the sales operations team with responsibilities around incentive compensation, territory and quota planning, sales metrics and reporting and sales forecasting as well as sales engagement and enablement tools and applications. Aligned with this functional area under the CRO is another set of roles and functions called revenue operations or RevOps.
While the sales operations team has long supported a set of activities generally agreed to by organizations and vendors, RevOps do not yet have the same universality of a common definition. Since many revenue organizations are populated by staff formerly associated with sales operations — and many CROs previously managed sales teams — there is an inevitability that the scope of RevOps tends to lean into sales management with the addition of customer success for retention and marketing. I have discussed this wider role in my Analyst Perspective "Revenue Performance Management: Leadership and Operations for Optimal Outcomes."
There are additional activities that are part of the overall revenue management process that are more closely aligned to the interface between finance, revenue and sales. These tasks are focused on delivering applications that improve the configure-price-quote process, contract life cycle management, price and margin optimization and a more rigorous and structured approach to approving quotes and contracts. For some organizations, these activities align more with roles tagged as part of commercial operations, led by a Chief Commercial Officer and supported by a commercial operations team. For certain industry sectors, this better captures a clear-cut definition between activities related to the delivery of services compared with the commercial aspects of the delivery. Health care providers are an example, with contracts and commercial terms between provider and payer clearly separated from the teams that provide medical and clinical care. But in any organization there is a clear need to have efficient and effective processes supported by technology that help all aspects of revenue generation across different teams.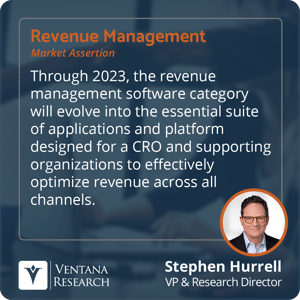 In my view, the successful approach to managing an organization's overall sales effort is best termed, revenue management and through 2023, the revenue management software category will evolve into the essential suite of applications and platform designed for a CRO and supporting organizations to effectively optimize revenue across all channels. This function is owned by either the CRO and includes sales, customer success and marketing and aligning with the needs of Finance and HR, or by the CCO and covers the commercial aspects of contracting to finance activities. More importantly, all teams involved with revenue — such as direct sales, partners, inside sales, customer service and marketing — are aligned. Revenue management is essential to ensure that the processes required to manage performance through analytics and planning provide insights to guide leadership to meet expected outcomes.
For many organizations, both sets of activities discussed above are an important part of sales and overall commercial and revenue operations. With technology vendors promoting their competing functional areas, organizations will need to glean what is most important to them compared to the vendor offerings. Buyers need to review processes and team alignment and ensure that any technology initiatives support their needs across the revenue management continuum rather than aligning with limiting vendor definitions.
Regards,
Stephen Hurrell