There are more digital channels in the commerce space than ever before: the web, mobile apps, text, voice-activated "agents," video and social channels. Conversational computing and hyper-personalization are transforming customer engagement, and organizations may need to undergo a digital platform renovation to optimize customer and product experiences or risk lagging behind competitors. B2B selling and buying are increasingly using methods similar to B2C digital approaches to mirror the digital commerce experience that has grown substantially within the last few years. Salesforce Commerce Cloud is one of the platforms utilizing this approach.
To keep up with these changes, organizations need to reach their customers throughout the many channels that exist and, at the same time, develop a better and more personalized experience for each customer. We now have enough data to make marketing and selling segments more focused, even to be a segment of one, which is known as hyper-personalization. Hyper-personalization has great potential in any selling or commerce space. In addition, utilizing artificial intelligence (AI) and real-time data can deliver more relevant content, product and service information to each user, all of which lead to more revenue and customer engagement.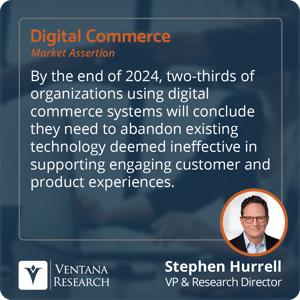 We assert that by the end of 2024, two-thirds of organizations using digital commerce systems will conclude they need to abandon existing technology deemed ineffective in supporting engaging customer and product experiences. We believe many organizations have been slow to adopt the necessary solutions needed to provide efficient and reliable commerce and must adapt or risk lagging behind.
Salesforce is a leading software-as-a-service (SaaS) provider for small-medium businesses (SMBs), as well as for high-growth and enterprise customers. Salesforce acquired the unified e-commerce platform Demandware in 2016 and was renamed Salesforce Commerce Cloud.
In March 2022, Salesforce acquired the Brazilian marketplace solution Atonit to create a commerce marketplace built on the Salesforce platform to connect with Commerce Cloud and other clouds. This enables brands to build and scale an online marketplace as well as create additional capabilities including increasing cart sizes, earning commissions and receiving membership subscription revenue from vendors, all while maintaining a low-code, fast-start approach for companies of any size. The platform itself is not fully built out yet as evidenced by some missing capabilities like contract negotiation and Service Level Agreement (SLA) enforcement, but this acquisition represents a good first step in Salesforce developing their commerce platform and their awareness of the marketplace. but this acquisition represents a good first step in Salesforce building out their commerce platform and their awareness of the marketplace.
Hyper-personalization is a term that is being used more in describing specific sales and marketing functions and the theory behind this is straightforward. Catering to a single customer rather than a group will no doubt lead to more conversions on a product as the commerce experience is tailored to that specific person. Historically, this kind of process was impossible as the data and speed needed to run such a task were not available, not to mention the need for a dedicated data scientist to run it. With Commerce Cloud utilizing Einstein AI, companies can now deliver product recommendations, tailored product sorting and relevant search results, all leading to more revenue.
Alternative payments are another important aspect of e-commerce considering the vast options of payment methods that are available in today's digital economy. Having multiple pay options to choose from is an important factor in consumer buying and can remove potential barriers that may detract from a sale. Salesforce supports many payment processing integrations through its Salesforce App Exchange such as Stripe, Paypal, Apple Pay, Google Pay and even some forms of cryptocurrency.
Many of the capabilities surrounding Salesforce Commerce Cloud can be expressed in two words: simplicity and flexibility. Dynamic pricing is a key part of any kind of commerce and sits at the core of simplicity and flexibility. The ability to update pricing models in real time is crucial in response to any kind of market demand or shift. Price changes can be based on the perception of how much a consumer is willing to pay for an item at a specific time, competitors' pricing and other variables. And those changes need to happen in seconds in order to achieve maximum revenue potential.
Organizations looking to simplify and innovate their commerce platform should keep Salesforce on their shortlist. The acquisition of Atonit represents a good first step and an awareness of the potential for what a native commerce marketplace platform can do. Companies must also be aware of the infancy of the platform and ensure that its capabilities can handle the more complex needs of B2B selling. The B2B e-commerce space is rapidly changing and organizations not adapting to the needs of consumers will feel increasing competitive pressures. Such configuration capabilities, like pricing models and inventory, will be critical to the success of any B2B commerce platform. Salesforce must also address the need for a positive customer experience while accessing comprehensive and detailed product information. The use of a product information management (PIM) is a vital component that will better support an impactful engagement leading to increased purchases.
However, Salesforce is well-positioned to be a leader in this shift, and by utilizing their capabilities-rich platform and Einstein AI, they will help their customers drive revenue for years to come.
For further reading on e-commerce, see this Analyst Perspective: https://stephenhurrell.ventanaresearch.com/the-experience-of-digital-commerce
Regards,
Stephen Hurrell