Digital commerce affects almost everyone's lives. It is hard to remember a time when one could not sign on to a website like Amazon, order a product, pay for it and have it delivered to your front door within days, not weeks. Although catalogues have been around for a century or so, the digital-commerce revolution has changed the way we think about shopping for many of our everyday and special occasion products. Extend this to digital services, such as streaming videos or online games, and there is barely a sector that has not been touched by digital commerce. And, for organizations, it is an essential component of their revenue-management efforts that enables the digital transformation and monetization of goods and services.
At the high end of luxury retail shopping, the personal shopper- advising, pointing out tailored offerings and generally serving a single individual- is a privilege for very few. But digital commerce is changing this. The next wave of B2C digital-commerce offerings focuses on using artificial intelligence (AI) to hyper-personalize this experience, reflecting that one size does not fit all and recreating that personal shopper experience. Is the platform smart enough to ensure that one is buying combinations that work together? can one easily change between payment methods or can one easily pay using credit or split payments? What delivery options are there, can they be scheduled when and where? Likewise, personalization will also be in real time and dynamic, based on activities in the current session. As an example, on-the-fly pricing offers as customers sequentially surf different digital-commerce websites for the same product or service.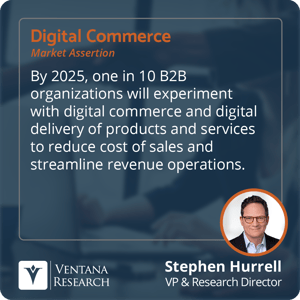 By 2025, one in 10 B2B organizations will experiment with digital commerce and digital delivery of products and services to reduce cost of sales and streamline revenue operations.
All this personalization is making B2C a more pleasurable experience for the consumer while also serving the sellers' need to retain consumers, as profitability is typically only assured with repeat visits and purchases. As we experience this in our personal lives, it is also becoming an important expectation for B2B buyers as well. Long gone are the days that we would put up with a "clunky" and "unwieldly" software experience at work, we now expect that experience to be similar to what we experience in our everyday lives.
There are some differences between B2B and B2C digital commerce in functionality, but not in the expectation of the experience. A B2B buyer is not necessarily the end consumer and may well be buying multiple instances for multiple users. If what the purchase is linked to an event or is a service or product such as an ink refill linked to another product, like a fixed asset such as a printer, then periodic re-orders on a subscription basis maybe an option. In order to excel, digital commerce websites will measure consumption and preemptively reorder, or notify a buyer that a reorder is needed.
If we continue the analogy of a personal shopper, or even a more traditional retail outlet, there is often a need for expert advice. As my colleague, Mark Smith, details in his recent Analyst Perspective on the evolution of product experience management, in order to support a positive and rewarding customer experience, having up-to-date, engaging and dynamic product information and potential configurations is crucial. In fact, more than 60% of all vendors say that a better customer experience is the primary benefit of investing in a modern, product-information management system. And it is not enough for information about products to be accurate and consistent, but also needs to be an engaging experience using digital media and new initiatives such as augmented reality. In many ways, despite being unable to physically touch and feel in the digital world, e-commerce can provide an experience that is in many ways better than a physical outlet, with dynamic access to an encyclopedic knowledge of inventory, configuration and availability.
Over the past few years, and accelerated by the pandemic, traditional commercial selling arms (B2B) of major B2C organizations have been complemented by a more multifaceted approach, including both inside and outside sales and, as importantly, by digital e-commerce channels. As digital-commerce platforms improve, the additional needs of the B2B transaction can be met with the same experience level as enjoyed by B2C commerce platforms.
We are seeing more companies that focus on goods and services look to optimize their digital-commerce channel and be part of an omnichannel effort with existing customers, and through marketing, as a direct initial sales channel. If an organization has not yet embraced digital commerce, its needs might vary from those that have engaged with it already. Organizations that are new to digital commerce should be less interested in functional "bells and whistles" and more interested in the manageability, adaptability and reliability of digital commerce, whether on a regional basis or for a discrete business unit or product group. Many technology providers offer methods to get started rapidly and have means to evaluate and test their products quite easily; they may also have partners to further expedite your configuration and go-live on the digital commerce platform.
For organizations that are new to digital commerce as an additional channel, they should look to vendors that have an adaptable platform that can be configured to meet the needs of existing systems, are able to design a digital storefront, and offer the level of skills training through digital learning systems. For organizations looking to assess and determine if a new approach is needed, they should look to their digital-merchandising requirements and the hyper-personalization needed to enable digital and product experiences that will result in the desired level of commerce. An effective digital-commerce channel should be an instrumental component of your revenue-management efforts and should easily meet your operational and expected performance outcomes.
Regards,
Stephen Hurrell