There is no doubt that the pandemic has accelerated the existing need for new technology that can help sales professionals do their jobs well in this quickly evolving market. In addition, market trends are driving the need for functionality that is aimed at the front-line sales professional and the manager, highlighting the demand for tools that can help arrest the decline in quota attainment, as well as helping salespeople supplement their traditional focus on sales quotas with activities such as prospecting.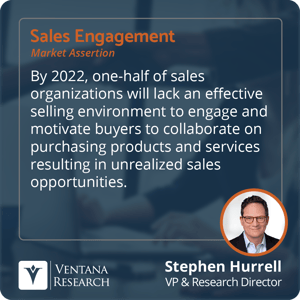 One major criticism of the various sales and selling applications is that, oddly, they actually do very little to help salespeople sell. My assertion is that by 2022, one-half of sales organizations will lack an effective selling environment to engage and motivate buyers to collaborate on purchasing products and services resulting in unrealized sales opportunities. Pipeline management and deal tracking are built into most of these applications, and these are crucial tools, but they're primarily for managerial purposes, and not for sales professionals designed to help increase potential outcomes. And now, with the pandemic severely restricting traditional sales activities, especially field sales, it's critically important that developers and vendors focus on delivering new functionality that can directly support salespeople. I cover many of these topics in my recent perspective, The Art and Science of Sales from the "Inside Out".
Salesforce is a leading software as a service (SaaS) provider for small-medium businesses (SMBs), as well as for high-growth and enterprise customers. The vendor has many cloud-based applications, including the newly branded "Sales Cloud 360" offering, which began with a relaunch of what was then Sales Cloud, and is now supplemented with new functionality to help both high-velocity sellers and field sales.
Such product innovations indicate that Salesforce is responding to market conditions by consciously building out functionality of Sales Cloud 360 to improve its efforts for virtual selling and collaboration. This means that Salesforce now has tools and software in place to assist sellers during a time when traditional relationship-building human-facing activities are not available. Salesforce's continues to focus on meeting the needs of sales professionals and managers, and is directly providing more engagement through its High Velocity Sales offering to support virtual sales engagement. While this is an optional offering, this reflects a typically necessary selling method that sales organizations have already been operating. The trend toward virtual selling was evident before the pandemic, continues during and will continue after these unique circumstances are over. The challenge for many sales organizations is that Salesforce editions and pricing are not designed with the individual roles and personas of the sales organization in mind. They are based on what Salesforce wants to package together for its revenue needs.
With their most recent releases, Summer '20 and Winter '21, Salesforce has put more emphasis on support for remote learning and onboarding for new personnel including sales professionals and managers. In addition, Salesforce Sales Cloud High Velocity Sales and the AI-focused Einstein Call Coaching is now available to analyze and learn from voice conversations at both the individual and group levels in the use of keywords, product and customer names (Summer '20). Customers will also be able to train Einstein to look for mentions of other words and phrases such as competitor mentions. These models can be used to establish what a good conversation looks like and will aid in coaching and training. In addition, using Einstein with the location-based intelligence of Salesforce Maps, and with the newly integrated Tableau Software analytics features, Salesforce can also now be used for territory and account planning. This is important because it can help ensure that the key salespeople are given achievable targets, which in turn helps avoid demotivation and churn. But Salesforce has yet to address the broader needs of sales operations and leadership teams with Sales Performance Management. An area that its peers already have integrated into their suites, whereas Salesforce depends on partners to help them address these critical sales organization requirements.
These recent releases are definitely moving in the right direction, but there is still more that could be done to help salespeople. Salesforce Sales Cloud currently uses AI to model what a successful sale looks like and uses this to provide a win score for a given sales opportunity. As a logical extension, they could also provide a map for a successful sales motion with recommendations and schedule for next best actions. Another area would be in using data to understand the needs of the selling professional in terms of the targeted development and coaching skills. This would also require the identification of key attributes that can be shown to be a marker for enhanced sales execution leading to improvements in quota attainment. This contrasts with the more typical, infrequent, one size fits all training commonly provided today. Opportunities do not close themselves; salespeople and sales teams do.
Over time, an ecosystem of software vendors has arisen offering functionality and capabilities not offered in the core Sales Cloud. Salesforce has recognized this and is building out similar capabilities natively in its products. As Salesforce extends its offerings, these ecosystem partners will have to accelerate their own development to continue to offer relevant functionality not available in the Salesforce offering. Salesforce account teams will be keen to sell their own version, of course. At best, this will extend the sales cycle for partners, but at worst it removes the need for these "add-ons." As Salesforce evolves, regardless of whether this new functionality is at parity, partners feel threatened.
Advanced analytics such as AI and machine learning (ML) have been around in the world of sales for the better part of the decade, but adoption has been uneven and slow. If acceptance has been low, that's because the approach taken is less about selling and more about managing. If salespeople do not easily find that the new functionality helps them sell, sustained adoption will remain a challenge.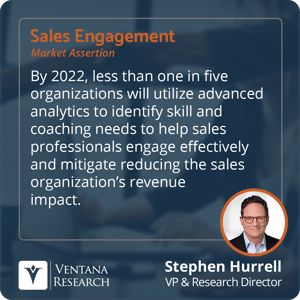 My assertion is that by 2022, less than 1 in 5 organizations will utilize advanced analytics to identify skill and coaching needs to help sales professionals engage effectively and mitigate reducing the sales organization's revenue impact. While vendors such as Salesforce are now providing functionality that will specifically help inside and field sales in selling, there is still more to be done to assist managers in better understanding the needs of sales professional in guiding them to close more business.
Most organizations already employ software to help manage the sales teams at multiple levels and groups. But they now need to look at the newly available software tools and techniques that can help individuals to sell. To provide sustained value, the next generation of AI-based sales tools needs to be more focused at the individual level, and should identify actionable, rather than informational insights. To get there, organizations using Salesforce should ensure they are getting what they need, and if not, look to alternatives that integrate with Sales Cloud to help aid better sales performance. Salesforce, for its part, should continue to invest in expanding these sales organization-specific offerings as Salesforce targets a more complete offering covering all the differing persona involved across the sales organization, and simplify its packaging and pricing to align with its use.
Regards,
Stephen Hurrell