As I have discussed in my Analyst Perspective, The Art of Sales, from the Inside Out, the challenges facing direct sales leaders are not going away. Declining quota attainment, lack of visibility into deal health and difficulty in forecasting quarterly sales remain a challenge for sales leaders, resulting in a continuing reduction in duration of tenure.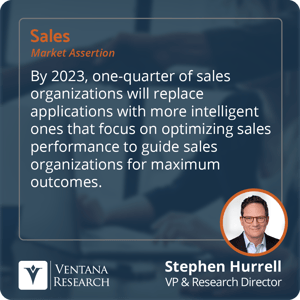 Increasingly, applications and tools that support sales teams are shifting their focus away from standard sales and customer-management functions towards a data-driven response to address these challenges. This shift in emphasis is essential, as we assert that by 2023, one-quarter of sales organizations will replace existing applications with more intelligent ones that focus on optimizing sales performance to guide sales organizations for maximum outcomes.
New to this effort is SugarCRM. Sugar has been in existence since 2004, initially all based on open source and offered as on-premises only, primarily to the SMB market. More recently, Sugar completed its shift to the cloud and although they continue to sell on-premises software, their emphasis is on the cloud version and references in this Analyst Perspective are to their cloud version, not the on-premises version. They are also refocusing their sales efforts to larger companies with a sweet spot for customers with revenues between $250 million and $1 billion. Although Sugar offers a platform that extends beyond support the sales organization, the company's first announced offering using AI technology available with the acquisition of node.io is via the Sugar Sales product.
Sugar Predict has been applied to scoring opportunities in an effort to better understand pipeline and deal health. This is similar to applications of AI from other sales platform vendors. In addition, Sugar, through their acquisition of Corvana in 2019, also laid the groundwork for enhancing their overall approach to improving the analytical component of SugarCRM and Sugar Sales. With this acquisition, Sugar is now able to deploy an integrated data model that is oriented to understanding change, a critical element of opportunity and pipeline management. In addition, Sugar is focused on supporting what they term "no touch," the automatic collection of relevant opportunity data that salespeople and managers typically enter by hand. Combining these three initiatives creates opportunities for SugarCRM's existing and prospective customers.
Applying AI to sales data has been around since at least 2014. But one of the many obstacles to full deployment and adoption has been worry about the quality and timeliness of the data being used to build predictive and scoring models. It is no secret that most sales platforms were not viewed as being rep friendly and it has been a battle to get reps and line managers to enter data on time. And with good reason, as reps and managers saw little to help them with all the data they were expected to collate and enter. SugarCRM, like other vendors, recognized this and provides APIs and connectors to third-party tools such as email, calendars and text messaging to automatically update activity data as events happen, without the rep or manager having to manually enter it. This helps solve the real and perceived issues of data accuracy and timeliness which has led to mistrust of AI-based data-driven scores and recommendations.
The other major component supporting both Sugar Sell analytics and Sugar Predict is the internal deployment of what Sugar terms "time aware" data. Although perhaps not as unique as claimed by Sugar, it is important to understand how the time aware data model makes the SugarCRM sales application different from other vendors. This time aware data model, sometimes also referred to as a temporal database, enables two very important analytic functions: understanding what has changed and what is the trend between two points in time. Since the information in a sales opportunity changes in a nonlinear way, using a standard transactional model could potentially miss key information such as how sales stages progress, product mixes change or prices and quantities change. In addition, date and time stamping enables the application to recreate how the world looked at a certain point in time, important for sales teams where salespeople move in, out or within a reporting organization, ensuring apples-to-apples comparisons are possible. More importantly, when married with non-CRM data such as firmographic and conversational data, this approach can enhance and improve the predictive capabilities of any AI-based analysis of what "good" looks like versus "bad."
The time aware data model built into the SugarCRM platform extends not just to new business opportunities but also to existing customer information. And although Sugar's predictive capabilities have been initially targeted at new sales opportunities, this should be extensible to existing customers for retention and upsell and expansion opportunities. This will be important in overall revenue management and not just for focusing on new sales. For more discussion on the need for new thinking when it comes to effective revenue management, please see my recent Analyst Perspective, Revenue Management: The Opportunity for Innovation and Optimization on this topic. Over time, SugarCRM should be planning on using this time-enriched and enhanced contextual data to move their predictive models into all aspects of revenue management, including lead to cash, customer retention and expansion or cross-sell opportunities.
When it comes to sales specifically, SugarCRM, like many vendors, tackles the "observational" aspects of AI for opportunities: what is happening and why. To truly become a ubiquitous application, with adoption and use across the entire sales team and not just management or sales operations, Sugar Predict will need to add functionality that helps salespeople sell. An example of this would be "next best action". In addition, as revenue management becomes an essential imperative for the Chief Revenue Officer, all sources of revenue need to be included in the functional scope of Sugar Sell, to include alternate direct and indirect sales channels as well as an expanded focus on retention and expansion of existing customers.
Regards,
Stephen Hurrell