As mentioned in my Analyst Perspective, Revenue Performance Management: Leadership and Operations for Optimal Outcomes, there is continuing pressure on sales leaders to deliver against sales targets in increasingly competitive markets. Among the various levers that sales leadership can use to support these efforts, are applications and processes that best position sales teams to achieve targets, such as planning and allocating territories, establishing quotas and devising incentive compensation plans supportive of organizational revenue goals. Once in place, continuous monitoring of lead-to-opportunity progress and pipeline health can aid in identifying areas for improvement as well as solidifying sales forecasts to better indicate gap-to-target issues and necessary adjustments to territories and compensation incentives.
One of the most prominent vendors in this market space is Varicent. Spun out of IBM at the beginning of 2020, Varicent offers a variety of products that help optimize sales team effectiveness, including territory, quota and compensation resources as well as lead-to-opportunity and pipeline management, attained through the 2020 acquisition of FunnelCake, now renamed Varicent Lift. In addition, Varicent has a distinct artificial intelligence offering called Symon.AI that connects to multiple platforms, melding historical data with machine learning and data science to provide forward-looking predictions and insights to guide actions and decisions.
Symon.AI is used by Varicent's individual applications and also offered as a standalone AI product with templates that can be applied to other areas of sales, such as predicting sales-person churn.
Varicent announced a number of new features and initiatives at its 2021 Spring Summit. Enhancements include more effective territory and quota planning resources for adapting to rapidly shifting market dynamics, speeding response to competitive and market pressures and frequent sales team changes. The organization also announced the launch of the Symon.AI Benchmarking App, released in partnership with the Alexander Group. The app utilizes the Alexander Group's market data to enable customers to benchmark their own progress compared to similar companies and obtain recommendations to further improve sales performance. The Symon.AI Benchmarking App is available at no additional cost to current customers. Symon.AI — a winner of the Ventana Research Digital Innovation Award for Office of Sales in 2020 — has also been incorporated into Varicent's Lift product, providing insights as to how companies can improve pricing models, identify early in the sales cycle what is required to win an opportunity and even predict which customers are likely to offer the best opportunities for sustained usage, expansion and growth.
Overall, Varicent is positioning itself as a vendor with a well-rounded offering that expands from its original charter of TQP and incentive and compensation management to a revenue operations platform utilizing AI to assist in planning sales performance as well as lead-to-opportunity management, turning plans into results.
Like a number of vendors supporting sales and operations teams, Varicent is shifting focus to a broader definition of sales, including more sources of revenue. Applying Symon.AI across a broad range of use cases differentiates Varicent from other organizations since Symon.AI is both embedded in applications and offered as a stand-alone product with pre-built templates to answer questions that affect sales teams, such as sales compensation data validation, payout anomaly detection, opportunity and account scoring and variations in price discount from list across deal size and industry type.
Varicent's TQP solution is one of the industry's most comprehensive — not surprising, considering that is Varicent's core competency. The lead-to-revenue offering has promise — especially as embedding of Symon.AI is expanded — but is weaker in the areas of sales forecasting and offering next-step recommendations for sellers. The ability to quickly and easily see and address sales trends, problem areas and opportunities as well as predict outcomes and prescribe actions based on that knowledge will ultimately lead to optimized revenue for organizations. My Analyst Perspective on the needs of a good sales and revenue forecasting system go into further detail.
The announced partnership with the Alexander Group to share benchmarking data is intriguing, but as this is early days, it remains to be seen whether this translates into useful information for customers that provides long-lasting value, as opposed to a one-off benchmarking exercise.
While the Varicent product set is not yet a complete revenue operations platform —not uncommon among SPM vendors — there are many aspects that are worthy of a closer look. The Symon.AI offering is tried and tested, and though no panacea for all challenges facing sales teams, it will enable organizations to improve important aspects of sales and revenue operations as well as provide additional benefits around salesperson churn and revenue leakage through over-aggressive discounting.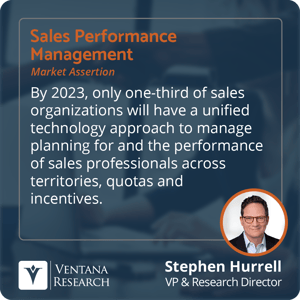 An application that integrates the territory, quota planning and incentive compensation preparation work of SPM with the reporting, analytics and forecasting capabilities of pipeline management is a prerequisite to enable the modern sales organization to both prepare successfully and be in a position to adjust as circumstances dictate. If the notion expands to include not just sales but renewals as well as indirect sales and digital channels, a dedicated, flexible application will enable the key attributes of SPM without extensive retooling and disruption.
However, my assertion is that, by 2023, only one-third of sales organizations will have a unified technology approach to manage planning for and the performance of sales professionals across territories, quotas and incentives, despite this being a key area for improvement for most companies. The modern revenue organization should be looking at applications that will support a flexible and adaptable approach to planning and execution for today and for the future.
Regards,
Stephen Hurrell