I'm very excited to announce to my network as well as the ever-expanding Ventana Research community that I'm now directing Ventana Research's Office of Sales practice. The focus is to guide and educate sales and business professionals on the selling applications and technology including digital commerce, price and revenue management, product information management, sales enablement, sales performance management and subscription management. While these are the main topics of our Office of Sales practice, my decades of experience in analytics, artificial intelligence (AI) and planning are part of what I bring to the firm to help advance the science of selling.
Those with whom I have worked with over the years know me in predominately a range of product leadership roles including product management or product marketing, from my days at IRI Software through the Oracle acquisition and most recently at Exigen, C9 Analytics, InsideSales.com, Aviso and RecVue. By the way, I worked with Mark Smith, our CEO and Chief Research Officer and David Menninger, our SVP of Research in Analytics and Data, at IRI Software in the early 1990's. In addition, I have held management positions running business development, professional services, pre-sales and support teams. This has given me a breadth of understanding of the product development process, implications for implementation and configuration and most importantly, a deep understanding of how applications can support or hinder business process improvements and business results.
In my most recent roles, I have worked at the forefront of data- and AI-driven applications for both inside and outside sales organizations that support executive management, sales management, operations and front-line personnel. My work has ranged from startups to global technology behemoths like Oracle. In these roles, I have worked closely with the sales organization to enable sustained adoption of AI-based opportunity scoring as an additional indicator of pipeline health and for sales forecasting. Informing my work here at Ventana Research, will be my experience in sales applications and using analytics and planning-enabled finance applications with my knowledge of product and marketing processes. This firm provides insights drawn from objective, quantitative research, subject matter expertise and the experience of the organization in our Benchmark Research, Dynamic Insights and Value Index products, along with our Ventana On-Demand advisory, education and consultative products, which are designed to advise and educate sales and operations leadership. Ventana Research helps business and technology management look beyond the latest technical hype and better understand how their organization can be improved through the deployment of technology.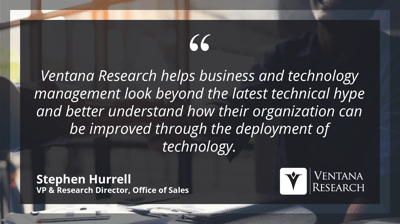 Sales organizations are facing increasing challenges as quota attainment levels continue to decline. The rise of the internet, and thus the enhanced availability of extensive product information and crowd-sourced reviews, has introduced a degree of asymmetry into the selling process. It is now not uncommon that by the first time a vendor is engaged, the buyer is already months into their process and has already selected the final candidates, limiting vendors' options to influence the process such as the RFP. In addition, there are now more active participants from prospective customers in the buying process, which is leading to longer and more involved cycles.
But vendors are increasingly seeing opportunities to develop applications that can help sales organizations better understand where opportunities lie, how to more effectively deploy resources and how to fail more quickly so that minimal time is wasted on weak opportunities. Better collaboration across sales organizations, including cooperation between inside and outside sales teams with sales operations, and more effective knowledge sharing are critical components of any sales team's effectiveness.
Companies that understand what technology can—and cannot do and that also understand that change requires not just technology, but good management will improve their chances of remaining competitive and attaining revenue goals. Ventana Research's focus on the business impact of technology, honed over nearly 20 years, results first and foremost in recommendations that address customer challenges and opportunities. I look forward to continuing the firm's excellent work in providing insights and guidance to the industry.
As we continue to elevate the importance of the dedicated needs of sales organizations, I am eager to work with our clients to help them understand the applications and technology that is appropriate for their team's journey to greater achievement. Our clients can easily schedule time with me through our client success team whom are dedicated to providing the best possible Ventana eXperience!
Best,
Stephen Hurrell