The last decade has seen exponential growth amongst subscription-based business models. Pioneered in the B2C market with cloud-based SaaS offerings, the last decade has seen exponential growth in the share of the economy that is now subscription based. Increasingly, this modern business model is permeating throughout more traditional style industries and companies. But regardless of whether a company is natively subscription based, or is transitioning, maintaining this growth requires organizations to foster long-term relationships with customers and deliver products and services that get better over time.
Whether totally subscription and usage-focused or a mixture of the traditional one-time transaction and the new, building and scaling a subscription-based business in this volatile economy requires continuous digital innovation. This includes managing and supporting complex pricing structures for competitive advantage, developing scalable technology infrastructure and personalizing user experience, thereby nurturing customer relationships. Managing subscriptions with Excel sheets is time-consuming, doesn't allow for coordination between pricing, billing, collection, and accounting software, and can be prone to potentially costly mistakes. Spreadsheets are also difficult to scale.
Subscription Management software such as Zuora can help streamline complex operations and prepare an organization to grow in these rapidly changing market conditions. Their recently released next-generation Central Platform utilizes a market-leading suite of Order to Revenue applications including Zuora CPQ, Zuora Billing, Zuora Collect and Zuora Revenue that help manage ongoing subscriber relationships and respond to market demands at scale. The configuration and developer layers enable users to customize, integrate and extend pre-built application functionality into the rest of the ecosystem, which helps orchestrate business processes across all platform data and services. Zuora also gives developers access to specific use cases that include goodwill discounts, applying credits, suspending and resuming subscriptions, and suspending payment collections. The Audit Trail feature provides CFOs a financially compliant system with reporting and monitoring of critical subscription activity to aid both internal and external auditors.
Zuora Revenue (also known as RevPro) is an order-to-revenue application that understands the full range of subscription transactions. Built around ASC 606 and IFRS 15, RevPro offers a high degree of automation that enables a subscription business to achieve a faster quarter close, recognize revenue while minimizing compliance risk, and real-time subscription data collection and forecasting.
In August, Zuora announced additional capabilities that support more extensive pricing formulas, fully integrated quote-to-revenue flow and new, pre-packaged certified analytics. This step forward is critical, but it is just as important to ensure that insights are dynamically generated and served in a personalized, natural language-based approach that can be acted upon. Analytics without context and collaboration to improve outcomes is insufficient and something Zuora should improve upon.
As discussed in my Analyst Perspective on Subscription and Usage Pricing, there is a need to support flexible and often complex models that enable organizations to price for competitive advantage. Whereas pricing for a product or service on a subscription basis is part of the order process, pricing based on usage for a given period can only be evaluated at the end of the cycle. Computing the eventual billing amounts requires calculations based on usage volumes and price formulas negotiated as part of the contract or order. These formulas can be complex and could use such drivers as aggregated volume tiering, period to date, and attributes such as geographic location or time of the year. Organizations should ensure that their subscription management software supports their particular usage pricing models and ensure that customers are not restricted in their ability to price for competitive advantage.
Some of the additional challenges facing subscription-based businesses include adapting to the new customer lifecycle, new tax guidelines,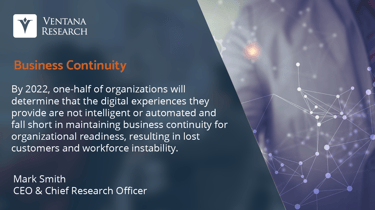 dynamic invoicing and revenue recognition. We assert that by 2022, one-half of organizations will determine that the digital experiences they provide are not intelligent or automated and fall short in maintaining business continuity for organizational readiness, resulting in lost customers and workforce instability. These points were articulated by my colleague and Chief Research Officer Mark Smith in his perspective on the dynamics of subscriptions and subscriber experiences, and must be addressed for continuous operations of these essential business processes.
As detailed in the perspective on Business Continuity and Subscription Management, managing subscription models can be complex. After the initial subscription engagement and order placement, the customer experience continues. Subscribers may want to upgrade or downgrade, add more team members, or unsubscribe to some and expand other functionalities. All these changes are likely to be off the billing cycle so the system needs to be able to handle these adjustments and prorate accordingly. Likewise, product bundles need to be continually tuned and adjusted to remain competitive. As part of Zuora's latest release, these changes can now be automated through integration with either their own Configure-Price-Quote (CPQ) process, or other commercially available CPQ offerings. In addition, CPQ flows can include ramp deals where the price increases over time, such as with introductory rates. Ramps can also be triggered on an effective date, enabling price increases for CPI uplift and applied across customers.
Zuora has also announced a library of pre-packaged analytics to be delivered as part of the Zuora suite. Certified by the Subscribed Institute, these commonly used metrics include Monthly Recurring Revenue (MRR), Active Subscriber measurements,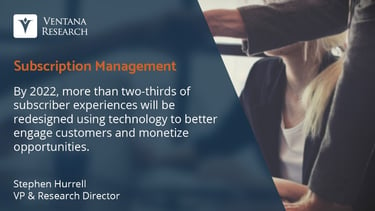 Churn and Net Retention rates. Future development of analytics on the subscription process and subscriber experience is necessary to help address the entire needs of an organization. We assert by 2022, more than two-thirds of subscriber experiences will be redesigned using technology to better engage customers and monetize opportunities. To further support this is a new feature to create a snapshot of daily data to support trends over time. Having certified analytics ensures a degree of standardization in the measurements, but from what we have seen, the standard dashboards do not contain the ability to create alerts or prescriptive analytics that highlight actionable data about subscribers or areas to be addressed for improving outcomes. My colleague Dave Menninger has written about the need for analytics to be prescriptive and actionable in his perspective.
With this latest release, companies that need to support complex pricing to remain competitive, especially with usage-based business, should certainly look anew at Zuora. With its orchestration capabilities and integration with CPQ, Zuora can support traditional companies wanting to transition their business model from one-time only sales to subscription and usage-based pricing and billing while utilizing their existing ERP and CRM systems. Integration with these systems is already established, but the streamlining of the events and data needs to be even further addressed to make the real-time nature of these processes a reality with subscription management platforms.
Being able to manage all processes from a single platform makes it easier to launch new services and products and expand into new territories globally. With the addition of pre-packaged analytics (although with the noted caveat as to how actionable these truly are), subscription management vendors can also help with new opportunity identification such as cross-sell and upsell. Product and services performance and trends can now be tracked. And usage forecasts can help with MRR projections for the finance team.
Zuora's commitment to provide a reliable customer and product experience has become an essential part of the company's approach to the industry, which could be further articulated in its marketing and sales efforts. If your organization is looking for a subscription management suite and platform, or to handle both legacy and subscription business models, Zuora should not be left off your list for evaluation.
Regards
Stephen Hurrell