Revenue performance management and the role of revenue operations is moving to the forefront of sales organizations, aligning departments around a single view of the business with shared revenue targets and goals. This facilitates the needs of the sales department as well as customer experience, marketing and renewals. The concept of RevOps does not yet have a widely shared common definition within organizations. Because revenue organizations include workers associated with sales operations, there tends to be a bias that RevOps leans towards sales management with the addition of customer success for retention and marketing.
Ventana Research defined the category of sales performance management in 2003 to catalogue the unique needs of sales leaders, managers and operations teams working to align planning and execution with revenue targets. Now, sales performance management is evolving into what we call revenue performance management. RPM manages revenue across all channels, departments and types, employing all activities and processes of governance and leadership. Reaching full revenue potential requires applications and technology that support analytics and planning to guide decisions that maximize outcomes. RPM enables organizations to develop shared strategies, goals and metrics, ultimately accelerating decision-making. We assert that by 2024, almost one-quarter of organizations will establish a chief revenue officer leadership role, focusing on all channels and departments of revenue, not just direct sales.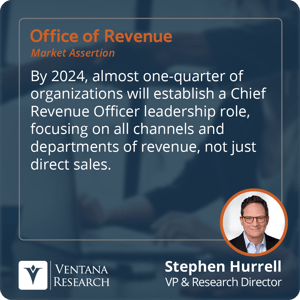 Xactly provides enterprise cloud–based sales performance management software. It's core capabilities include incentive compensation management, quota planning and territory management and optimization. With the acquisition of TopOPPS in early 2021, Xactly has added capabilities in pipeline management and sales forecasting. During the last Xactly Unleashed conference in May 2021, the organization announced a new focus with a move into pipeline management and forecasting as well as a pivot to revenue operations The RPM platform incorporates strategic sales planning, operational sales management, incentive compensation management, and revenue performance analytics — all of which combine to create an effective and continuous support system to manage revenue and enable growth. Xactly calls this approach "intelligent revenue," however I believe this may disparage the term as it sounds like business intelligence for revenue and not an active management system.
Because the definitions and use of RPM and RevOps are not yet widespread, organizations like Xactly have the opportunity to take a strong stance on addressing operational and performance requirements for all types of revenue throughout the organization. Although Xactly has a leading SPM platform — as defined in our last Value Index — which includes widescale support for the sales and planning teams, it needs to provide more support for the shift to revenue management. This includes aligning departments not solely focused on sales — teams such as channels and partners, customer service and marketing. Many aspects of SPM, including deal and pipeline management, commissions and incentive compensation, sales and revenue forecasting, quota and territories, planning and analytics, need to integrate with roles and resources across the organization that influence revenue generation. Customer relationship management, sales force automation, finance, human resources and order systems need to support management, operations, analysts and administrators in finance, HR, sales and IT roles.
Backed by expertise in the Office of Revenue, Xactly is well-positioned for supporting the larger market of revenue management as the core methodologies and approach are similar. The revenue management process is continuous and spans the front and back office. It must have end-to-end visibility into the full revenue life cycle to support both management and other stakeholders within CX, marketing and sales departments. Organizations finding themselves in need of realignment towards revenue management across any channel should consider Xactly. Not many vendors in this market segment are showcasing an end-to-end revenue platform, and Xactly is at the forefront of this shift.
For further reading on this shift to revenue performance management, check out these Analyst Perspectives:
Regards,
Stephen Hurrell